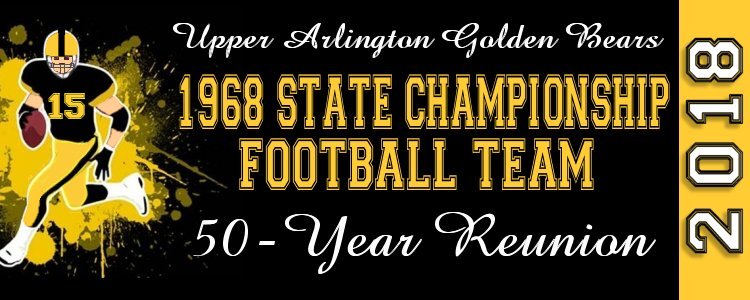 THE STATE CHAMPIONSHIP GOLDEN BEAR FOOTBALL TEAM IN 1968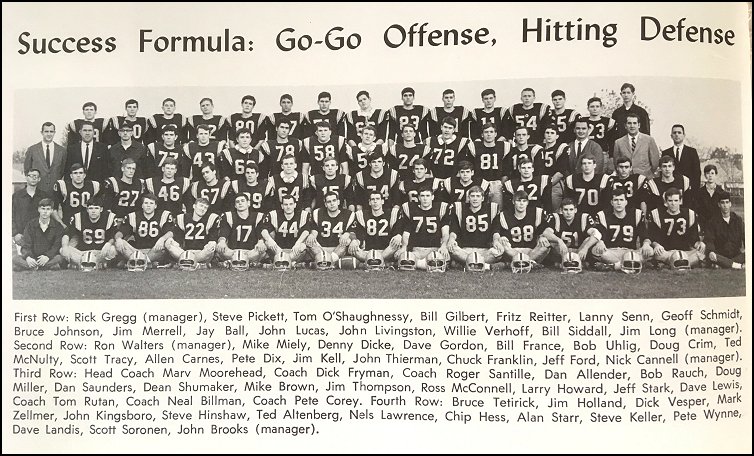 Photo from 1969 Norwester
THE TEAM REUNITED 50 YEARS LATER IN 2018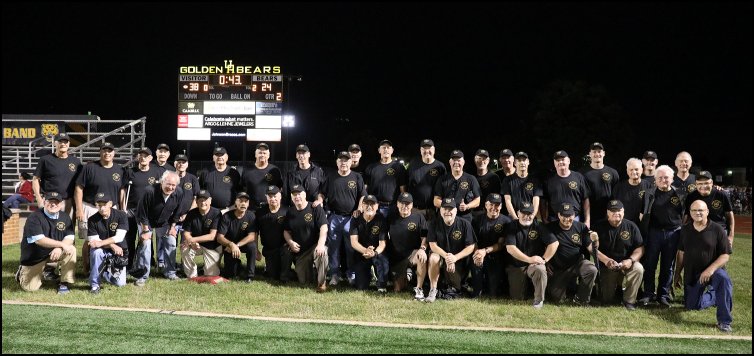 Photo by Dave Thompson
Front: Bruce Tetirick, Steve Keller, John Kingsboro, Dick Vesper, Bill France, John Livingston, Dave Gordon, Jeff Ford, Dave Harding, Mark Zellmer, Ted Altenberg, Mike Miely, Jim Long, Jim Holland, Scott Kell.
Back: Denny Dicke, Alan Starr, Jeff Stark, Coach Bill Pfeil, Rick Gregg, Coach Tom Rutan, Nels Lawrence, Bruce Johnson, Steve Pickett, Doug Crim, Scott Guthrie, Brett Moorehead, John Lucas, Wil Verhoff, Jim Merrell, Fritz Reitter, Jim McNulty, Ted McNulty, Lance Senn, Andy McNulty, Bill Gilbert, Jay Ball, Jim Kell
THE 2018 50-YEAR FOOTBALL TEAM REUNION
By Denny Dicke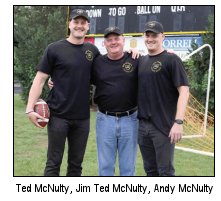 We began our celebration on Thursday, September 6, 2018 at the Reception House at Raymond Memorial Golf Course which is run by Schmidt's. After planning the date, we later realized that our first game against Pleasantview was on September 6, 1968 - exactly 50 years ago.
Jim Merrell introduced our special guests, Jim McNulty, Ted's brother, and his two sons Ted and Andy. Jim lives in Iowa where he played wide receiver for Iowa. His son Ted, who is 6'5'', was a tight end for the University of Kansas and his other son, Andy, was a State Championship quarterback in Iowa, and played QB for North Texas State University. There were about 125 attendees at the banquet which included 33 teammates as well as coaches Neal Billman (and his sons Mike and Andy), Tom Rutan, Bill Pfeil, Dick Fryman and Bob Donaldson. Cheerleaders Debbie Phillips and Carol Linberg were in attendance along with their coach, Katie Fulton Haddox.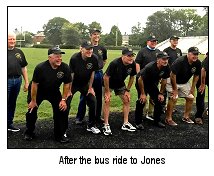 The showcase event at the banquet was a documentary about Coach Moorehead and the 1968 team. This film was produced by Brad Frick, class of 1966, and had been in the works for over four years. It includes more than thirty interviews and scenes from actual game films.
There is a link included in this website, so you can watch this incredible documentary. Please revisit this site to check for revisions over the next several months. Prior to the showing, Clay Hall and his ABC6 film crew showed up at the banquet to interview Brad. The link to the news story is also included in this website.
On Friday, September 7 the team recreated the school bus ride that we would take from the High School to Jones before games. On that ride we sang the same song we sang fifty years ago, "Yea Gold, Yea Black". In keeping with tradition there was also a CRO bus that followed the team bus and the CRO members joined the team for the rest of the evening.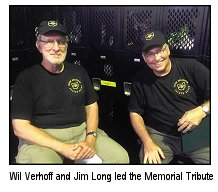 During our time at Jones we all gathered in the field house and Wil Verhoff and Jim Long led us in a memorial time to remember the men who have already passed on - 3 coaches (Marv Moorehead, Dan Dupler & Jack Woodruff) and seven players (Pete Dix, Ted McNulty, Scott Tracy, Dave Landis, Ross McConnell, Dan Saunders & Jim Thompson). This event was incredibly meaningful.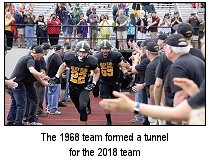 At the game UA played Winton Woods from the Cincinnati area. Prior to the game our '68 team formed a tunnel for the UA team and before halftime gathered near the south end zone so we could walk onto the field and be introduced.
After the game the team finished the evening at Carsonie's. On Saturday some of us visited Geoff Schmidt who was hosting the Columbus Oktoberfest at the Fairgrounds.
Please see the 5 minute music video at the bottom of this page, which was added in early December, 2018.



View the Slideshow from the Football Reunion Weekend



View Game Footage (added Summer, 2019)
Note from Brad Frick: All the games we have film for (9 out of 10), are there and we are missing only Chillicothe. There apparently is no surviving film from that game, either in UA or in Chillicothe. Parts of two games are also missing. Nonetheless, there's some wonderful stuff in these films and they demonstrate how truly great this team was.

BRAD FRICK'S DOCMENTARY ABOUT THE 1968 GOLDEN BEAR TEAM
By Brad Frick '66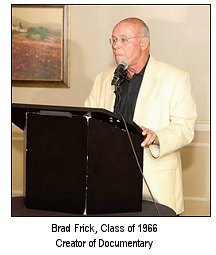 In the fall of 1968 I transferred to Ohio State. The week of September 6 I got a call from one of my U.A. '66 classmates who was asked if I wanted to go to the game on Friday night with a bunch of guys; he said the team should be very good again this year. About eight of us attended this first game, against Pleasantview High School, a Metro League team we'd never heard of.

At the end of the first quarter the score was 0-0. I stood up and said, to all who could hear me, "I thought you said these guys were good?"

What I saw in the next 12 minutes was stunning, the most remarkable thing I've ever seen on a football field, before or since. 200 yards of offense, 7 TD's (2 in 27 seconds). Rapid fire, fast break football. 75-0 at the end of the third period, 89-0 with ten minutes to go in the fourth quarter. A truely historic game.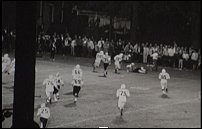 The following week the score was 70-0. The remaining games were all blowouts (the closest game of the year was won by more than 3 touchdowns). State Champs, national ranking, record setting performances, Hall of Fame coaches.
Fast forward to 2009. I was sitting next to my classmate, Gus Crim, watching a film about the 1968 Harvard Yale game. I thought to myself, "I could do a film like this...and if I did I would do it about the most remarkable team I'd ever seen." I started filming, on and off, over 4 years. 23 hours of interviews and as much 1968 media as I could find. The finish date was September 6, 2018, fifty years to the day from that 89-0 start.
All of the music in the film, after the intro and not counting the credits, charted in 1968. What a year! What a team!
Bradley Frick, UA '66



View Brad Frick's Documentary about the 1968 Team

1968 TEAM FEATURED IN ABC6 NEWS STORY WITH CLAY HALL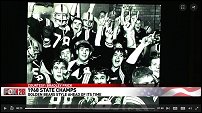 Clay Hall, the Sports Director for ABC 6/FOX 28, is also an alumnus of Upper Arlington High School, having graduated in 1975.
Clay attended the reunion dinner at Raymond Golf Course and interviewed several of the attendees. He then prepared a video for the Sepetmber 6 broadcast at 11:00 pm.


View ABC's Clay Hall discussing the 1968 Team Reunion

'THE BOYS OF FALL" VIDEO OF THE FOOTBALL REUNION WEEKEND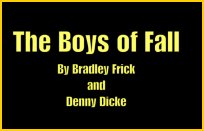 Denny Dicke and Brad Frick '65 assembled these photos from the September 6 - 8, 2018 Football Reunion into a five-minute video slideshow for your enjoyment and set them to the music "The Boys of Fall," recorded by Kenny Chesney.



View "The Boys of Fall" video by Denny Dicke and Brad Frick