SCOTT ROBERTS' HOOTENANNY MINISTRY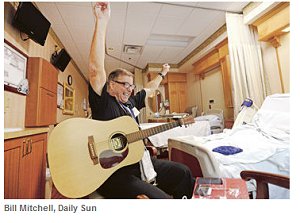 THE VILLAGES — Many people walk the halls of The Villages Regional Hospital, but not many carry a guitar.
Musician Scott Roberts is one of the small but growing number of volunteers recruited to help improve a patient's hospital stay and aid their healing process.
Through new programs, such as "Who Needs A Boost?" and Peer Connections, a musician lightens the mood in patient rooms and support group members offer advice to people recovering from life-changing procedures.
When TVRH Rehab Hospital began treating patients in July, hospital administration considered creating an in-house support group, but instead chose to tap into the multiple groups that already exist in the community.
The decision has been received well by patients and staff.
STEVE POLK RECOGNIZED FOR PHILANTHROPY

Stephen M. Polk of Polk Foundation in Upper Arlington, Ohio has been recognized for his Lifetime philanthropic excellence at the 10th Annual Invest in Others Community Leadership Awards Gala in New York City. Financial advisors are nominated by their peers for actively giving to improve their communities and make a difference in the lives of others.

Invest in Others is the premier financial services 501(c)(3)non-profit dedicated to recognizing, encouraging, and supporting the charitable works of financial advisors and the advisory industry throughout the United States and around the World.

In addition to our daily after school programs at the Run the Race Recreation Center, in the gym, art room, library, music, game room and providing meals and transportation for 50+ children each day, we have special events for them and their families throughout the year which we need your financial support.

Our back to school carnival had games, prizes, food and desserts while providing more than 250 backpacks with school supplies for children of all ages and grades. Our Halloween party was a similar affair and we gave the elementary school children their own costumes which they could keep and use for Halloween and pass along to their younger siblings. We give away hundreds of coats, gloves, and hats for the upcoming colder weather, and provide complete Thanksgiving meals with Turkeys and all the fixings for more than 250 families, over 1000 children. We give complete Christmas meals for the families as well as providing gifts for the children and parents. If the households need furniture or appliances we find and deliver when we can.

We work with low income children and families in Columbus who would not have any of these things without your support.

Thank you for considering a tax deductible gift to help us help these needy families and move them from a life of survival to a life full of possibilities.

Please send your donation to:

Stephen M. Polk, President (Class of 1969)
Polk Foundation- A 501(c)(3) Charitable Organization
P.O. Box 12099
Columbus, Ohio 43212
PATRICK DYNES VISITS CLASSMATES AROUND THE COUNTRY
On his continuing journey around the USA this summer, Patrick Dynes visited classmates along the way. In Columbus, he stayed with Bill and Ellen (Isaly) Clark and went to see Fritz Reitter, president of Reitter Stucco.
Patrick is taking architecture and construction classes in preparation for building his own home in the near future, and he is still undecided about exterior finishes.
Patrick and Ellen Isaly Clark toured the Reitter Stucco showroom for a small-class session in stucco, stone, and fabricated materials for home exteriors.
Duiring his journey out west, Patrick Dynes visited with Jane Cunningham and David Bruck for a week in Seattle.
Pat has been visiting national parks, as well as family and friends, throughout the west this summer.
In Olympia WA, Pat visited UA69er Steve Myers and his wife, Linda.
DAVE COOPER VISITS FROM FLORIDA; MEETS UP WITH KEN PFEIFER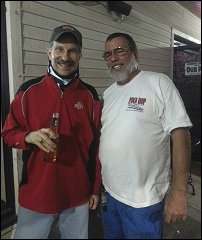 While Dave Cooper was in Columbus visiting, he and Ken Pfeifer got together for some catching up.
Dave and Ken share an interest in motorcycles and each owns one. Ken recently had an unfortunate motorcycle accident and has been recovering from surgery. Thankfully, he is doing fine.
You can email Dave and email Ken to tell them how young and great they look in this photo!
FRANK GUGLIELMI MAKING PROGRESS AS HE RECOVERS FROM STROKE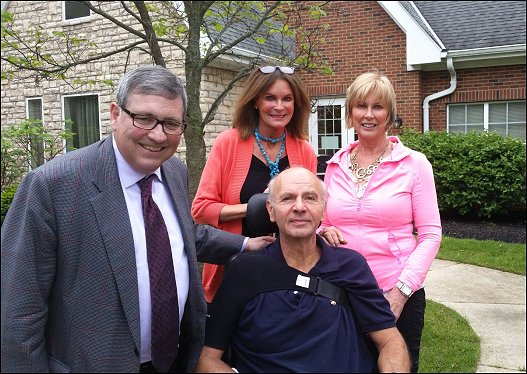 On May 11, 2016, Linda Whitman Uhrenholt and Ellen Isaly Clark went to First Community Village to visit Frank Guglielmi, where he is staying while he receives physical therapy following a stroke he had in February. They ran into the Rev. Jim Long, who was visiting other patients at FCV too.
Be sure to send Frank an email message at ua69frank@gmail.com!
MICHAEL O'ROURKE: 1951 - 2016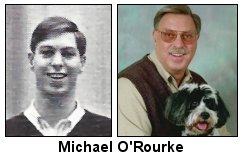 We received the sad news that Michael O'Rourke passed away on March 19 from a combination of ongoing health issues, primarily his heart.
Mike was a true UA69er, and loved participating in our reunion planning. He enthusiastically attended our 2014 reunion even though travel was challenging and getting around was difficult. He wanted to see his UA69 friends again.
Mike had moved to Memphis a few years ago to be closer to his sister, Patty Taylor, Class of 1965. He stayed in touch with several of our classmates mostly by phone, and he also was working on a reunion of his Valley Forge Military School alumni group. He and I often discussed ideas for reunion events.
Mike will be remembered and missed by our class.
You can read his obituary here.
GEORGE FRECKER INVENTS COMMERCIAL CAN CRUSHER
Rock Fest Committee Member and Guest Musician George Frecker '69 has offered his latest invention, a patented commercial can crusher, to UAAA for our Rock Fest event. Please watch this video of George's COOL and earth-friendly product!
You can see his Can Crusher in action at the Golden Bear Rock Fest on Saturday, April 23 from 7 - 11 at St Agatha!
DOUG EZELL'69 RETIRES AFTER DELIVERING 5,000 BABIES!
From the Billings Gazette, April 7, 2016: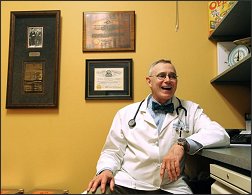 Perched on a shelf in Dr. Douglas Ezell's (UAHS Class of 1969) office at Billings OB-GYN Associates is an old copy of the board game Operation. The game — requiring careful surgery on the patient at the risk of a loud buzz from the board — was a gift of sorts from a patient.
"One of my patients gave that to me the day before an appointment and said, 'You need to practice,'" Ezell said.
That sense of humor and comfortable, friendly ease with patients helped carry Ezell through a 33-year career as an obstetrician in Billings — including helping to deliver thousands of local babies and helping hundreds of families get pregnant — and into his retirement on March 31. During his three-decade career, he said he put a focus on building a lasting rapport with patients.
"I just love the long-term relationship I have with my patients," Ezell said. "I've delivered the babies of some of the babies I've delivered." He's not exactly sure just how many babies he actually delivered in his career, all of which was spent in Billings, but Ezell estimated it to be between 4,000 and 5,000.
Four of those deliveries were members of the Erekson family in Billings. Ezell delivered Ashley Erekson and has since delivered all three of her children, ages 5, 3 and 1.
"He delivered me way back when, and then when we got pregnant with our first, we were looking for OBs and trying to figure out where to go," she said. "My mom told me about him and how he'd delivered me. I can say it's been a great experience. He's a great doctor who cares about his patients." Part of that relationship with Erekson, and all of Ezell's other patients, is a sense of humor that he uses to help keep patients calm. He said it's something that he started doing at the beginning of his career and honed over the years.
"This is delicate stuff that we do, and anything I can do to help put the patient at ease is worth it," Ezell said.
GEORGE FRECKER '69 FLIES MIG FIGHTER JET
From George Frecker '69: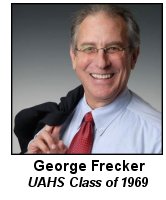 I had the fantastic opportunity to fly in a MIG fighter jet. This is the same type of jet flown by the Russians in Top Gun. The owner, Rick Boone, is a client of mine from Wichita Falls, Texas. The total time of the flight was 50 minutes. Rick is seated in the front of this clip and took control of the first and last ten minutes of the flight. I did the aerobatics and sat in the back with the GoPro. The first one was an aileron roll and the second was a barrel roll. These were accomplished at 17,000 feet and 350 knots. I did edit out the barrel roll that overly rolled over - commonly known as "falling out". The whole experience was very surreal.
I got my flying bug because of my dad who was in the Army Air Corps and trained heavy bomber flight instructors in WWII. Although I do have some power experience, my main aviation passion is with sailplanes in which I have over 2,000 flights. Sailplanes are powerless and capable of staying aloft for hours. It is a serene experience being up in the sky silently soaring with Red Tail Hawks and turkey buzzards (and occasionally a helium balloon).
I have my own sailplane and am a flight instructor. One of my real pleasures is doing aerobatics (it takes amusement park rides to a whole new level). I started flying sailplanes in 1979 at Central Ohio Soaring Association out of Marion, Ohio and I am still involved there. If anyone is interested in more information, please call me (614-451-2588). MarionAirport.com/COSA/

KATHY McLIMORE'S DECEMBER WEDDING!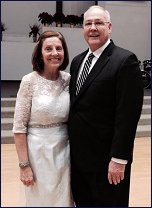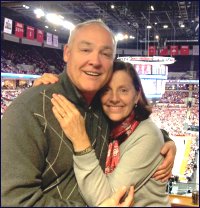 Kathy McLimore Leach recently became a blushing bride as she married Charles (Chuck) Flesher in December. Kathy reports that she and Chuck met in September of 2014.
Kathy was widowed more than ten years ago, and Chuck lost his wife two years ago. Together, Kathy and Chuck now have a large family, with many beautiful grandchildren and much happiness to share.
CONGRATULATIONS to this happy couple, Kathy and Chuck! We look forward to meeting Chuck at our 2019 50-year class reunion, if not sooner!
You can email Kathy here.
ANNE TAYLOR RETIRES AFTER 24 YEARS ON THE BENCH
12-24-15: From the Dispatch: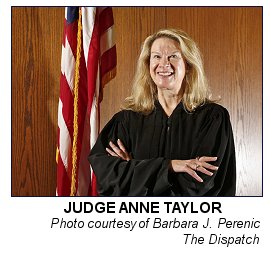 As she prepares to enter retirement after 24 years as a Franklin County Municipal Court judge, Anne Taylor is handing out a newly minted business card.
It reads: "Anne Taylor. Explorer."
That word describes her approach to life as well as her plans for retirement. "It's good on so many levels," she said, laughing. "I'm going to explore new things."
Taylor has been a world traveler for years, something she plans to continue after she leaves the bench on Jan. 5. Already planned for 2016 are trips to Japan and Australia. She also is intrigued by the possibility of working overseas with the International Association of Women Judges on problem-solving or fact-finding missions.
Elected to her first six-year term in 1991, Taylor is stepping down as the longest-serving female judge ever in the county Municipal Court. She could have stayed longer. At 64, she wasn't barred by age from seeking a fifth term, but she decided it was time to move on.
"I've seen judges stay too long, and that's not a good thing," she said. "Being a judge is a marvelous career, and I believe that talented, young lawyers should have the opportunity to have the kind of career that I've had."
Throughout her career, Taylor has consistently been rated as one of the top Municipal Court judges in the Columbus Bar Association's judicial-performance polls.
"She brings to the bench all of the qualities you want in a judge: a great temperament, outstanding intellect and a fundamental sense of fairness and justice," said David Thomas, a lawyer who has practiced in Columbus since 1999.
RANDY TURNER HAS MOVED BACK TO COLUMBUS!
Our UA69 classmate Randy Turner and his sister, Sue Ward, have moved from Florida back to Columbus, and on November 20, Julie May Jones and Ellen Isaly ClarkI went to visit them and welcome to their new home. Randy is doing well and is happy to be back "home." Randy and Sue are serious OSU fans, so they are happy to be back in Buckeye Country!
Randy's email address is flszyq@embarqmail.com and their phone number is 6l4-853-8821.
You may remember that our Friendship Fund brought Randy and Sue back to UA for our 2014 45-year class reunion.
Please contact Randy to say HI! He eagerly welcomes all messages from his classmates and other UA friends!
SUZANNA "SUSIE" KAUFFMAN RADER HAS PASSED AWAY

On Sunday, November 15, 2015, Suzanna "Susie" Kauffman Rader passed away at Kobacker House here in Columbus.
From the Dispatch:
Suzanna Lee (Kauffman) Rader, age 64, of Upper Arlington passed away, Sunday, November 15, 2015 with her family by her side. She was born July 17, 1951 in Columbus, Ohio, the oldest child of James and Sarah (Dodd) Kauffman.
Susie was a loving wife, mother and sister who devoted her life to her family and friends. She is survived by her husband of 45 years, William (Bill) Rader; her daughter, Jennifer Rader; mother, Sarah Kauffman; brothers, Tom and Daniel (Suzana) Kauffman and sister, Jamie Kauffman; other family and friends.
A Memorial Service will be held (Date and Time to be announced) at Upper Arlington Lutheran Church, 2300 Lytham Road. In lieu of flowers, contributions in Suzanna Rader's memory may be made to the Gynecologic Oncology Cancer Research Fund (#309353), c/o The Arthur G. James Cancer and Research Hospital.
Please visit schoedinger.com to share a favorite memory of Suzanna Lee Rader. ARRANGEMENTS BY THE SCHOEDINGER NORTHWEST CHAPEL (614) 457-5481.
Visit our UA69 Facebook page here.
MEMORIAL SERVICE INFORMATION:
Date: Friday, December 4, 2015
Campus: Upper Arlington Lutheran CXhurch
2300 Lytham Road in Fellowship Hall
Time: 5:00 pm
Reception: none
Officiating: Brodie Taphorn
SCOTT ROBERTS HEALS THROUGH HELPING OTHERS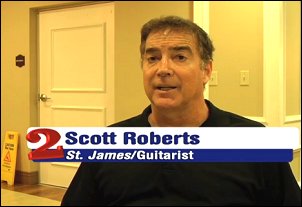 Many of our classmates already know that Scott Roberts, who lives at The Village of St. James in Florida has enjoyed great success in the field of ballroom dancing, but an injury to his back sidelined him from this activity and temporarily took him away from dancing.
Determined to find a productive activity during his recovery from surgery, Scott returned to playing the guitar and donated a large portion of his time to entertaining seniors in the area. During his visits, he plays the guitar and sings songs that appeal to the seniors and memory-challenged older adults.
Scott has made a full recovery and is returning to his passion for ballroom dancing, but says that his experiences with music and with the people he entertained have played a large role in his recovery from back surgery.

Watch the video
JEFF JOHNSON STARTS NEW JEWELRY COMPANY RIGHT HERE IN UA!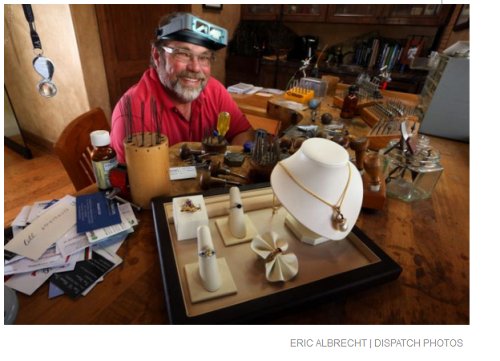 From the September 2, 2015 Dispatch:
Over time, jewelry often comes to carry with it great sentimental value. But at Jeff Johnson & Co., it starts that way.
That's because most of the rings, pendants and other jewelry items that leave the shop are custom pieces created for a special purpose by experienced craftsmen with a passion for what they do.
"For us, we're not just merchants," said owner Jeff Johnson. "We do a piece for customers, and they break down in tears. This is a real strong sentimental business."
He has worked in the industry for decades. He was once co-owner of the Diamond Cellar, founded by his father, Robert W. Johnson, in 1947.
The younger Johnson was bought out in 2008. After a noncompete clause expired, he quietly opened Jeff Johnson & Co. in November. It's located at 5025 Arlington Centre Blvd., in the building that housed the Diamond Cellar from 1986 to 1998.
The new shop is unlike its predecessor — and most other jewelry stores — for several reasons: first, the focus on designing and creating jewelry and handling repairs (they do have some finished pieces for sale); second, the shop and its workers are steeped in history, something in evidence around the store ...
"My two oldest sons are jewelers," he said. "Hopefully my grandsons will be the fourth generation in the business. I love working with old friends and working with old customers. That's what's great — working with people who are children and grandchildren of old customers.
"We paid all the dues. Now it's just for fun."

Read the entire Dispatch article here.
FRITZ REITTER & BROTHERS CELEBRATE 100 YEARS OF BUSINESS
Fritz Reitter and his brothers are celebrating the 100th anniversary of the founding of the Reitter Stucco Company. Fritz is president. Congratulations, Fritz!
From The Dispatch: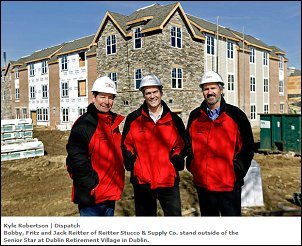 A lot has changed in the past 100 years in the stucco and plaster business, but one thing has remained a constant here in central Ohio: the Reitters.
Founded in 1915 by Gabriel Reitter Sr., an Austrian immigrant and masonry artisan, Reitter Stucco & Supply Co. is now run by his great-great-grandsons Fritz, 64; Bobby, 61; and Jack, 59. They never met their great-grandfather and learned the family business from their father, Richard, and grandfather, Gabriel.
"We just grew up in this business, and as soon as we could push a broom, they put us to work," said Jack Reitter, the company's vice president of sales.
"Then, when we were maybe 12 or 13 and old enough to carry mud in buckets, we were laborers at job sites," said Fritz, president of the company, based at 1100 King Ave.
Reitter's business is an equal mix between stucco, EIFS and manufactured stone, but the three brothers seem to have a special fondness for stucco, and warm memories of their grandfather teaching them how to apply it.

Read the entire article.

Visit the Reitter Stucco web site.
Reitter Stucco is a Valedictorian Sponsor of the Golden Bear Rock Fest, to be held on Saturday, April 25 from 7 - 11 pm at the St Agatha Event Center on Northam Road.
JIM FERGUS SHARES VINTAGE PHOTOS FROM 1969 UA TRACK TEAM
From Jim Fergus:
I've been going through some old pictures and found these from the 1969 Ohio State Track meet. It includes Earl Hill, Denny Dicke, Bill Riesenberger and me from the class of 1969. Also pictured are: Marv Crosten, John Kingsboro, Jeff Sorensen and one I didn't identify.
Denny Dicke

Coach Marv Crosten with Earl Hill and Denny

Front: Bill Riesenberger, John Kingsboro
Back: ___, , Coach Crosten, Earl Hil

Scott Soronen , Coach Crosten, ___. Jim Fergus
WALT DENNIS WINS CAR IN CHARITY PRO-AM
From BMWUSFactory.com:
Walt Dennis, a participant in the 2013 BMW Charity Pro-Am presented by SYNNEX Corporation, won a new BMW 325i when he made a hole-in-one in the first round of the tournament.
Walt aced the 154-yard, 9th hole at the Thornblade Club, which serves as the host course in the three-course rotation being utilized for the unique Web.com Tour event.
Walt, president of HFI, LLC, an automotive interiors supplier in Columbus, Ohio, was paired with professional Adam Crawford when he knocked a 7-iron in to become the first amateur to win an automobile since BMW took over sponsorship of the event 13 years ago.
"I knew I hit it pretty good, but I didn't think I hit it hard enough," said Dennis, who plays to a 2-handicap out of Scioto Country Club in Columbus and now has five career aces. "The car never entered my mind. I was giddy because my wife (Jane) was there, Ash (Hall) was there, my partner was there. I've been in events where there are cars given away, but it's got to be the right hole, it's got to be the right temperature and it's always somebody else that does it. I didn't see a sign and so it would probably be for Sunday and the finals, that's when they have a car. This is pretty special. This is just huge."
Dennis and his partner Crawford posted a team score of 8-under 63 while Crawford carded a 4-under 67 on his own ball.
The Ohio State University Department of Athletics began construction on the Jane and Walt Dennis Golf Performance Center in March, 2013. The 20,800-square-foot facility will be used by both the OSU men's and women's golf teams and will be one of the largest collegiate indoor golf centers in the country. The center will include a heated hitting bay building, allowing year-round practice.

Read an article about, and see photos of, the new golf center here.
Congratulations, Walt!
STEVE BASFORD DOES PLAY-BY-PLAY FOR OHIO WESLEYAN U.


From Steve Basford:
Again this basketball season, I am the play-by-play broadcaster for the Ohio Wesleyan men's and women's games. We have live video on stream.owu.edu.
Game dates and times vary, but they generally are on Wednesdays at 7:00 or 7:30 and Saturdays at 1:00 or 3:00.
NOTE FROM KAREN SHAFER ABOUT TRI-VILLAGE LIONS CLUB

From Karen Shafer
I am a member of Tri-Village Lion club; We support the Eye Bank. Pilot Dogs, and the Ohio State School for the Blind Marching Band, to name a few. We also do a Give a Book Get a Book campaign where children get to pick two books:one for themselves and on for another in more poverty stricken areas. We want to encourage reading
Now it is time for the Give Your Write Arm to a solider on active duty. We need letters from you that offer support for are troops.It would be great if you can write a letter or have yoru grandchildren draw a picture.
We will be at MCL on Veterans Day to collect letters. So please take five minutes and write a letter as the soldiers who protect us. They really love it . Thanks in advance. No money asked ... just a few minutes of your time.
PS: If you have any books for kids or adults, please give me a call at 614-565-1035 and we will pick them up
STEVE POLK'S FOUNDATION: "AN INVISIBLE HAND"
PLEASE NOTE: As is the case with all announcements submitted to UA69.com by our classmates, the following is for informational purposes only, and does not represent a personal endorsement by any individual or organization not specifically named in the announcement.

For the past 30 years, Steve Polk and family have been dedicated to helping inner city low income children and their families break the cycle and mentality of poverty through experiences and education not found by the family in their neighborhood or schools. Each week Steve has personally provided one on one tutoring in reading, given away thousands of books, provided children with exposure to cultural and performance arts, Columbus Zoo, Center of Science and Industry (COSI), museums, and camp experiences outside the inner city life. In the city where they live, in conjunction with Rachel Muha's Run The Race Club, a faith based charitable organization at their new 22,000 sq. ft. center on the Hilltop of west Columbus, Polk volunteers to provide after school programs with a library, tutoring, full gym and sports teams, arts and crafts, music and game rooms to give the children a safe place to play and learn. We also provide hot meals at the center for more than (60) children a day and a food pantry and clothing room for the families to take home needed items all at no cost to the children or families.
Broadening the children's experiences opens another world to get them out of their current state of mind, but their parents and guardians need to help as well to get them out of their state of being. Often the parent says "they can't" because of legal or financial issues so Polk has begun free Legal Aid and Financial Planning Services at the center to reduce those obstacles. We combine these services with career counseling and job placement services to steady the household financially and turn "why I can't" into "how I can be a better parent for my children."
We believe this holistic approach for both the children and parent is working!
Low income children and their families' needs are growing but you can help with a gift in cash or for maximum tax benefits, in the form of appreciated assets which Polk can help you accomplish. Steve Polk and family personally volunteer daily for all of these activities on the premises to insure that 100% of your gift is directed to the mission and used wisely. Thank you for considering a gift.
Stephen M. Polk, President

Print this letter and Donation Form
COMMITTEE HOLDS REUNION WRAP-UP MEETING - JULY 24, 2014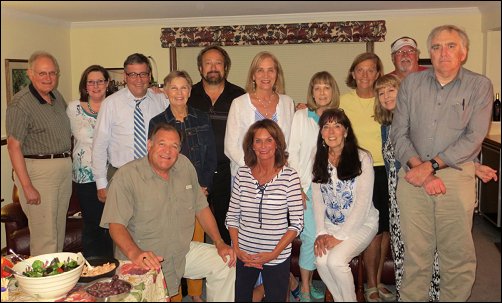 Front row, L-R: Bill Clark, Ellen Isaly, Karen Ludwig
Back row: David Michael, Sue Jones, Jim Long, Julie May, Duke Wick, Val Lancia, Lyn Skillman, Kathy McLimore, Patty Furney, Garry Hall, Gordon Mitchell
On July 24, the UA69 reunion committee members gathered together to review the reunion events one by one, talk about what worked and what we might want to change next time.
Any time we call together a meeting of this group, we also end up with a fabulous selection of goodies to sample. Thank you to this wonderful group of hard workers who made the reunion so enjoyable for everyone. And - the reunion was successful on all fronts. We actually ended up with $3,273.00 more than the balance we had when we opened the books, and we have a healthy balance moving forward toward the 2019 50-year reunion! Thank you for your donations to the various funds, and for making our reunion such a success!!!


PHOTOS AND VIDEO

JULY 2 - 6, 2014
Please note that the pictures vary in size and quality because they came from
various classmates' cameras and phones.
PHOTO SLIDESHOWS

VIDEO CLIPS

Thank you to Joe Bratton for the Brent Hawley video clip.

Several classmates have replied with memories or highlights from the 2014 45-year reunion.
CLASSMATES SEND GREETINGS
Not everyone was able to attend the 45-year reunoin, but they were with us in spirit. On the left, Phil Cardi and Jay Moffitt say "Hi" from the golf course at Jackson Hole. On the right, Jack Cochran sends greetings from Georgia, where he and his wife, Mary, were visiting family.
| | |
| --- | --- |
| | |
| Phil Cardi and Jay Moffitt | Jack Cochran and his wife, Mary |
STEVENSON / LESHY REUNION IN ENGLAND!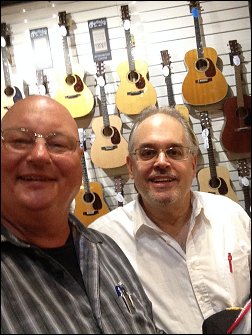 From Jeff Stevenson:
I had a different kind of class reunion though. I met up with John Leshy at Manson's guitar shop in Exeter, England on July 8 (selfie attached). The last time John and I had seen each other was at the class reunion in 1984! John is doing great, and he is still playing guitar - VERY WELL!!!
He brought some old photos with him. They were pics of The Squires back in 1965. Clearly visible are John (his mom took the pics), George Frecker, Mike Doyle and me. One was during a gig we played in the Tremont Elementary School gym, one was at one of our Ohio State Fair gigs and the other two were of the band practicing in John's basement. What a blast from the past!
It was really great to see John again after all these years. We did our best to catch up, but you can't cover 30 years in an afternoon. It was all good though.
VICKI DOWNS' FISHINGER ELEMENTARY SCHOOL PHOTOS
Vicki Downs McCulloch brought these two elementary school photos to the reunion, and she has provided the names of amost everyone in the pictures. If you know the name of anyone who is represented by a question mark, please let me know. Thank you, Vicki!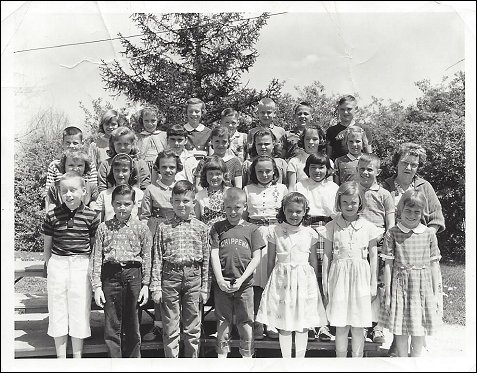 MRS. BLEIMAS' 4TH GRADE: FISHINGER ELEMENTARY SCHOOL
Row 1: Tim Souders, Paul Stone, Dick Bluff, Mike Doyle, Rhonda Lace, Trisha Moore, Vicki Downs. Row 2: Laurie McLaughlin, Kathy Sheifer, Vicci Hiltabiddle, Linda Brigman, Louise Tragard, Peggy Roussey, Randy Neidenthal, Mrs. Bleimas. Row 3: Herb Johnson, Janice Rowland, Elsie Salzgaber, Patty Stone, Susan Perry, Karen Ludwig, Kitsy Shearer. Row 4: Jackie Cooper, Pam Shuey, Christina Nowell, Garry Hall, Glenn Dunnington, Pat Born, Bill Clark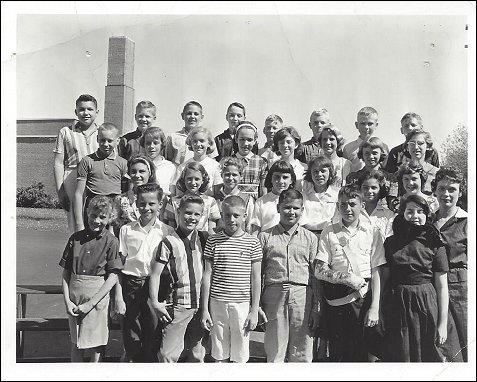 MRS. MCGUIRE'S SIXTH GRADE: FISHINGER ELEMENTARY SCHOOL
Row 1: Vicki Downs, Jack Griffith, Bruce Fahlander, Mike Doyle, Lance Voss, Fred Wheeler, Colleen McGucken. Row 2: ?, Candy Taylor, Shirley Parsley, Elsie Salzgaber, Libbie Pfefferle, Debbie Cato, ?, Mrs. McGuire. Row 3: Tim Souders, Pam Shuey, Donna Sell, Teri Scott, Debbie Deam, Kitsy Shearer, Gwen Patterson, Jane Joost. Row 4: Ken Ross, David Edwards, Pat Born, Dean Grinch, Dennis Driggs, Neil Rouse, Randy Juilliard, Roger Doering
FOUND AT MEMORIAL CEREMONY - READING GLASSES
These reading glasses were left at the Memorial Ceremony at the high school on Sunday, July 6. If they belong to you, please email me and I will get them to you. They are tortoise shell, and the Rx is +2.75. I think they were left on the sign-in table. Click photo to enlarge.
STEVE HOLLOWAY AND WIFE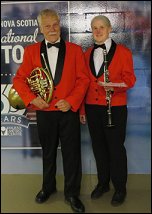 The Royal Nova Scotia International Tattoo is a week-long event held every year in Nova Scotia.
This year Steve Holloway and his wif, Donna, were invited to perform at the event; this is why he missed the reunion. The show was a great success, playing to audiences averaging 5,000 each evening. Pictured is Steve and Donna, in costume.
The two-and-a-half hour family show is fast-paced – every scene only lasts about 3-6 minutes, so there is always something new to see and experience. There's bagpipes, highland dancers, la culture de l'acadie and military traditions.
FRANK'S SON AND ED'S DAUGHTER GET MARRIED!
Chris Guglielmi and his new bride, Liz Rhine Guglielmi, with their parents
From Frank Guglielmi:
My son, Chris Guglielmi, and Ed Rhine's daughter, Liz Rhine, were married last September in Columbus.
They both graduated from OWU and the University of Findlay with advanced degrees and reside now, in all places, in Upper Arlington, on Mountview Road.
Chris owns the Jimmy John's at Kingsdale and 10 other locations, and Liz is physical therapist at Riverside.
Their wedding fell hot on the heels of my daughter Annie's who also married a young man named Chris Riehl from, you guessed it, UA. We seem to be captured by my roots there and it's seems both providential and amusing.
INSPIRING COMMENCEMENT SPEECH TEACHES LIFE LESSONS
Denny Dicke sent in a link to an incredible commencement speech given by United States Navy Seal Special Operations Commander William H. McCraven at the University of Texas at Austin. It's an inspiring series of lessons on how to change the world, using analogies based on the practices of the Navy Seals.

Read the speech here.

Watch the Video here.
MODELING THE CLASS REUNION HATS
Reunion Co-Chairman Patrick Dynes and his date, Karen Charlesworth, came through Columbus on their way to the Indianapolis 500 and tried on the UA69 reunoin hats that Jack Cochran's company designed. These hats and visors will be available for sale at $15 each. You can order them from the reunion reservatoin form!
Later, Pat and Karen went with Bill and Ellen Clark for dinner at DeVinci at Kingsdale.
MARY AND LINDA STILL SEARCHING FOR LOST CLASSMATES!
Mary Ervin Butler and Linda Whiteman Uhrenholt decided that Napa Valley is about halfway between their two homes, so they met on May 21 to partake of local goodies and continue the ongoing search for lost classmates.
If you know the whereabouts of anyone on this list,, or have any kind of idea where any of them might be, please email us with a lead!
Meanwhile, Linda and Mary continue their detective work!
WIL VERHOFF ORDAINED AS ANGLICAN PRIEST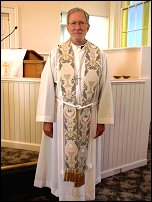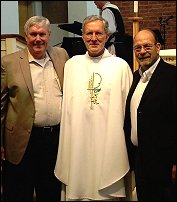 Wil Verhoff has fulfilled a lifelong dream.
On Saturday, May 17, Wil was ordained as a priest in the Anglican Diocese of the Great Lakes, in the Akron area.
Wil began his seminary work at the Methodist Theological School in 2004. He is currently a pastor at Messiah Anglican Church in Stanford, Kentucky.
Classmates and lifelong friends Geoff Schmidt and Jim Merrell traveled to witness the ordination and to share in the joy of Wil's special day.
A Note from Wil:
"I have a church organization, Messiah Anglican Church; all I need is people to be a part of it. In the past two years I've concentrated on getting established in this rural Kentucky community which the average person does not know what Anglican is, which is Biblical like any other Protestant denomination.
I have been a volunteer chaplain at the local hospital, Adult Daycare, and two nursing homes. I remarried in 2009 to Barbara (Britt) Verhoff who is multi-talented and a remarkable nurse anesthetist at the local hospital. I have four children, all happily married, and two grandchildren, and two on the way."
Congratulations to Wil Verhoff on this great achievement!
MARTIN TODD'S SON, BRENDON TODD, WINS BYRON NELSON GOLF TOURNAMENT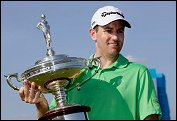 On Sunday, May 18, Brendon Todd, the 28-year-old son of UA69er Martin Todd and his wife, Carolyn Todd, won the Byron Nelson Golf Championship. The two-stroke win over Mike Weir was Brendon's first PGA victory. He finished with a bogey-free 4-under 66 to win.
Raised in North Carolina, Brendon graduated from the University of Georgia, where he was part of the 2005 team that won the National Championship. He joined the Nationwide Tour in 2008 and won the Utah Championship.
In the 2009 Athens Regional Foundation Classic, Brendon became the first player on the Tour to get get two holes in one (on the same hole!) in the same tournament.
Good news for those of us in Columbus: Brendon Todd will be playing in the 2014 Memorial Tournament at Muirfield Village Golf Course from Thursday, May 29 through Sunday, June 1.
(AP Photo/Tony Gutierrez)

Read the ESPN.com article and watch the video about Brendon

Watch video of Brendon's win at the Byron Nelson Championship

Watch video of Brendon after winning the Byron Nelson Championship
COLLEEN McMAHON SELECTED AS 2014 UAAA DISTINGUISHED ALUMNUS!
Each year the Upper Arlington Alumni Association selects one or more alumni for the Distinguished Alumnus Award.
A Distinguished Alumnus is an alum (or group of alumni) who is honored for his or her personal educational or career achievement.
This year, our own COLLEEN McMAHON has been selected for this award, based upon her outstanding career in field of law.
Colleen is a United States District Judge for the Southern District of New York. She was appointed to the federal bench in 1998, following a career that included two decades of law practice at the New York City law firm of Paul Weiss Rifkind Wharton & Garrison, a stint as a speechwriter/special assistant to the United States Ambassador to the United Nations, and three years as a judge of the New York State Court of Claims. At Paul Weiss, a firm noted for its litigation expertise, she was the first woman litigator elected to partnership. An acknowledged leader of the New York City Bar during her years in private practice, Colleen chaired the Committees on State Courts of Superior Jurisdiction and Women in the Profession at the Association of the Bar of the City of New York and headed The Jury Project, New York's highly successful jury service reform effort. She has served as Vice Chancellor of the Episcopal Diocese of New York and a member of the Standing Committee of the Diocese; taught courses in law at Benjamin Cardozo School of Law; been a member of the Committee on Audit and Administrative Accountability of the Judicial Conference of the United States; and presided over a number of high profile cases, including lawsuits in which the heirs of actress Marilyn Monroe and cartoonist Jack Kirby sought to reclaim rights in their work, and the infamous "Newburgh Four" FBI sting operation, which involved serious allegations of Government entrapment that were recently explored in a documentary film. She is frequently asked to speak at continuing education programs and other events.
Colleen attended The Ohio State University ('73), where she majored in International Relations, and Harvard Law School ('76). She serves on the Alumni Advisory Board for OSU's College of Arts and Sciences. For fun she sings with elite amateur choirs in the New York City area; presently she is in the Canticum Novum Singers, described recently by the New York Times music critic as "this excellent chorus." She has written two books of meditations, one for members of Vestries and other lay church governing boards, the other from the perspective of a judge.
She is married to private equity investor Frank Sica. They have three children, Katie (an elementary school art teacher, married to Shawn Pero), Patrick (who recently completed a tour as a Lieutenant in the Armored Cavalry, United States Army, during which he served in Afghanistan), and Brian (a financial services sales representative, accomplished triathlete and occasional blogger).

UAAA will present the 2014 Distinguished Alumnus Award to Colleen McMahon on Friday, July 4, 2014 during the UACA Party in the Park at Northam Park, prior to the fireworks.

Read Colleen's Biography here.

See the names of former UAAA Honorees here.

Email Colleen here
.
DAVE COOPER'S MOTORCYCLE RIDE
From Dave Cooper:
I will be riding my 05 Kaw Nomad up from Florida for the week of the reunion.
I want to put together a ride out to Buckeye Lake for classmates. Thinking Sunday, July 6 around 10:00 am. Beer at The Port, east end, Lunch and one man band at Copper Penny south side and stop at Island House, west end for a drink. Trip back to Cbus. Stop at Heritage, 70 and Brice Road for night cap.
NOTE: This event is not sponsored by the UAHS Class of 1969 as part of our reunion weekend.
REUNION: GREAT TIME TO JOIN UAAA OR RENEW MEMBERSHIP!

Can you believe that we are now reaching 405 of our approximately 650 classmates using valid email addresses? It's true, and we are continuing to search for everyone else's email address, too!

The Upper Arlington Alumni Association's database of all graduates from 1923 - 2013 has been a valuable tool for us. Names, addresses, phone numbers and email addresses, as well as student activities, are entered into this database upon graduation, and then each grad's information is updated through the years.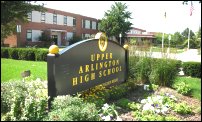 The UAAA database has provided starting points (former addresses, phone numbers, parents', siblings' and spouses' names ... ) for our classmate searches. UAAA provides complimentary mailing labels, based on this database, for reunion mailings and activity-specific events such as athletic, band, orchestra, and vocal music reunions.
For a monthly fee (paid by membership dues), our database is secured, stored, protected, and backed up daily. In 2012 and 2013, UAAA held our Golden Bear Rock Fest fundraiser to help make ends meet. But we REALLY need your membership dues!
Joining UAAA is simple. We offer several levels of membership, as well as payment plans..
$20: Annual Membership
$80: Reunion Membership (5 years, and one is free!)
$250: Life Membership
$500: Golden Bear Membership
Our class has been generous through the years! The UAHS Class of 1969 has more Golden Bear (14) and Life Members (21) than any other class.
Those of you who have joined at the Reunion and Annual Member levels have helped UAAA tremendously! Unlike Golden Bear and Life memberships, the Reunion and Annual memberships do expire, so won't you please renew your membership? We really need our alums' support!

You can join UAAA or upgrade your membership here. Thank you!
If you are unsure of your membership status, please email Ellen.
TERRY STRENG INDUCTED INTO UA BASEBALL HALL OF FAME!

Our own Terry Streng, a standout baseball player and co-captain of the 1969 Golden Bear baseball team,was inducted into the UA Baseball Hall of Fame on Saturday, March 8, 2014. Terry is one of six honorees inducted into this first class of the Hall of Fame.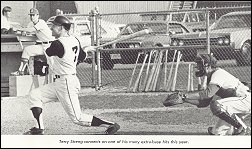 Since the first pitch in 1925, Upper Arlington Baseball has earned the reputation as one of the leading baseball programs in the state of Ohio. With 14 district championships, including two state championship teams, Upper Arlington Baseball has consistently produced competitive teams and talented players. Over the years, Golden Bears Baseball players have been honored with numerous All-State and All-District player awards. Many former Golden Bears have gone on to play college baseball and several former players have played professionally.
CONGRATULATIONS, TERRY!

2014 CLASS OF UA BASEBALL HALL OF FAME INDUCTEES:
| | |
| --- | --- |
| COACH & HONOREE | Ralph Schivone, posthumously |
| TEAM | 1987 State Championship Team |
| PLAYER | Tim Thomas, 1987 Co-Captain |
| PLAYER | Terry Streng, 1969 Co-Captain |
| COACHES | Ron Mautz: 1982-86, 2007 |
| | David Koblentz: 1987 |
CRAIG ROBINSON UNEARTHS RARE FIND!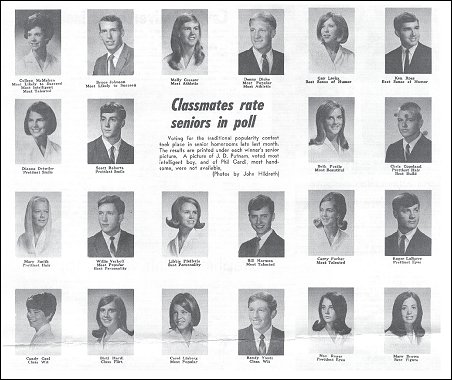 Craig Robinson sent in a couple of pages from the 1969 school newspaper, The Arlingtonian. One page shows our traditional Senior Awards (congratulations again to the winners!!) and the other contains "Graduation Brings Memories," our Class Bequeaths to our Teachers, and "Seniors Speculate: What If ... "
Thank you, Craig, for bringing back a lot of fun memories from 45 years ago!

See the Arlingtonian articles. (Be sure to view both pages!)
WHAT A GREAT FIND! THANK YOU, SUSI WISEMAN THOMAS!
Susi Wiseman Thomas is sharing her Pen Points magazines from 1964, when we were in 7th grade, and from 1966, when we were in 9th grade at Jones Junior High School. Craig Robinson has submitted his 1965 Pen Points magazine for your reading pleasure!
Pen Points was a magazine that was (from the magazine's Foreword) "designed to represent the many students who have felt the desire to express themselves and who have been able to do so effectively through form and word. It is dedicated to every student reader, with the hope that he or she will also attempt to reproduce thoughts and emotions for the many persons who are searching for truths."
Some of the writing and artwork is really thoughtful and insightful! Even if you didn't attend Jones, you'll see the works of many of your UAHS friends in here!
Click on either image of the Pen Points covers to see the magazine in its entirety as a PDF. You'll see poems, stories and artwork from dozens of our classmates. Clearly they highlighted the work of the 9th graders, so the 1966 (yellow and orange) issue has more featured stories and illustrations by our UA69ers.
The teachers/editors included: Mrs. Marian Smith; Mrs. Betty Hennessey; Mrs. Joyce Guckert; Mrs. Frances Bretz; Miss Judy Hudnall; Mrs. Ruth Armstrong;Mrs. Martha Yutsey; Mrs. Gloria Bohen; Mrs. Mary Jane Spahr, and Mrs. Ellen Buesling. The Art Editors were Mrs. Anne Smith and Mr. Jerry Tollifson, and the Typist was Mrs. Ruth Griffith. The English Coordinator at the time was Mr. Stephen Nesha.
In 1964 and 1966, our superintendent was Mr. Walter Heischman. The Jones Principal was Mr.Samuel Henderson (1964) and then Mr. David Jones (1966), and the Assistants to the Principal were Mr. Bernie Cellar, Mr. Marvin Baker, and Mr. Walter Niceswanger.
ARE YOU ABLE TO HELP CHERI BENNETT AND HER HUSBAND?
From Ellen Isaly Clark, March 11, 2014:

Tish Mintzer Hopkinscontacted me today to tell me that she was visiting Cheri Bennett Schlesinger in Texas when an ice storm brought down several large branches that landed on the Schlesingers' garage roof. Cheri's husband, Henry Schlesinger, got on the roof to remove the branches, slipped on the ice, and fell to the ground.
Henry was life-flighted to Hermann Memorial Hospital in Houston, where doctors performed surgery to attempt to repair damage done to Henry's cervical spine. Right now he is paralyzed from the shoulders down. Doctors have said that the next two weeks will indicate whether Henry will have the potential to regain mobility in his extremities.
As you can imagine, this is a terrible time for Cheri and her family. The family has set up a GoFundMe web site to raise funds to help pay the extreme medical bills that the Schlesingers will incur. If you are able to help in any way at all, please visit this web site and contribute whatever is comfortable for you. No donation is too small.
Cheri's email address is Cheriyvonne@sbcglobal.net.

Visit the GoFundMe web site here.

If you would prefer to send Cheri a card or send a check to the house, here is her address:
Cheri Schlesinger
18802 Pheasant Lane
Tomball TX77377
NOTE TO THE CLASS FROM CHERI: March 30, 2014
I would love to Thank everyone who has been so selfless and giving, It truly has been so many blessings with such sadness for Henrys recovery, Never have I truly turned my life totally into Gods hands, but now my strength comes only from Him.

We have had to deal with 3 blood clots in his lungs, pneumonia. And then coding 5 days ago, Through all the prayers and support I'm so happy to report Henry is now at TIRR Memorial Rehab, One of the top notch facility in the country, same place Gabby Gifford the congress women who was shot in New Mexico, so I know he is in the best place for recovery.

Please, Please post this on UA web site so I can truly Thank the most wonderful caring group of classmates and true selfless loving people anyone could ever ask for, I am so humbly Thankful from the deepest part of my heart

With much sincere love,

Cheri Bennett Schlesinger
JUST FOR NOSTALGIC FUN!
Terry Looker sernt this link to an online jukebox! YOu just select one of the dates and you can hear the songs that were popular in that year!
BIRTI AND DEBBI MEET BOB DONALDSON AT VETERANS DAY EVENT
Each year, Jones Middle School has a special Veterans Day event to honor Upper Arlington veterans and to give students an opportunity to interview them and learn about these veterans' military experiences.
At this year's Veterans Day celebration, Birti Hardie and Debbi McNeal Wood reunited with former Jones teacher, Mr. Bob Donaldson. Mr. Donaldson was a wonderful educator and the Jones students who ahd him for American History will remember him as one of their favorite UA teachers.
Mr. Donaldson has attended our reunion parties in the past and is looking forward to seeing his former students next July!
Birti Hardie, Bob Donaldson, Debbi McNeal Wood
GARRY HALL, JEFF STEVENSON, NICK KAPAROS ON BIKE TOUR
Jeff Stevenson (with helmet cam), Nick Kaparos and his wife Metta, and Garry Hall on a bike trip to the Rocky Mountain National Park in August 2013.
| | |
| --- | --- |
| | |
| Jeff, Nick, Metta and Garry | Nick, Metta, Garry and Jeff |
BRUCE REINWALD IS PROUD FATHER OF THE BRIDE
Bruce Reinwald did the honors as proud Father of the Bride for his older daughter, Rachel Reinwald's September 28, 2013 marriage to Ignacio Lopez.

From Bruce:

"They met when Rachel was involved in a study abroad program while attending DePaul University here in Chicago. Rachel majored in Accounting and Finance with a minor in Spanish and upon graduation from DePaul, she spent a year working for a bank in Chicago. Rachel and "Nacho" crossed the Atlantic for vacations and holidays during those years before she moved to Madrid, taught school in a public school for two years. They decided that they would move to Chicago, Nacho would pursue a Masters degree in Engineering Management at Northwestern University and they married in Chicago on September 28th of this year and also in Madrid, Spain two weeks earlier. We all had a great time in Spain and took time to travel around different parts of the country. They currently put up with and live with Rachel's father and they are good people to have as roommates.

Caroline is my youngest daughter; she graduates from the University of Tennessee in Knoxville next month and is working as an intern in television journalism for an NBC affiliate. Caroline plans to pursue this field as a career choice after graduation. "

MORE EXCITING NEWS ABOUT BRUCE!!

"The father of these two wonderful girls is proud to be getting married next September to Rita Krueger, whom he has dated for 4-1/2 years. Rita lives in Chicago, has four great children and we all look forward to many wonderful years visiting family and friends around the country and world."

Bruce and Rita with Rachel

Bruce escorts Rachel down the aisle.

Bruce and Rita with Bride Rachel and sister Caroline.
A couple of silver-haired Golden Bears with daughter, wife and fiancee in Bruce's backyard the day after daughter Rachel's wedding. L to R- Rachel Reinwald, Jeff Torrence, Gail Torrence, Bruce Reinwald, Rita Krueger.
SOME FRIENDSHIPS LAST A LIFETIME!
From Cyndy McLane Street: "I met Debbie (Leggett, now Carnes)as the NEW girl at Tremont and we became fast friends. She took me under her wing. Then when St. Agatha merged with us at Jones the three of us were "Les Trois Musketeers" So many memories!
Judi (Ryan, now String) lived on Brandon as did I back in those days, Debbie was on Harwitch Road. So there were a zillion sleepovers, and we walked to every dance, Teen Club together. It has been a friendship (along with a bunch of other UA69 girls) that has brightened all our lives for decades!"
Technically challenged?
They'll figure it out together!

Cyndy McLane Street, Debbie
Leggett Carnes, Judi Ryan String

More longtime friendships: Debbie Leggett Carnes, Judi Ryan String, Allyn Doyle Sachs,
Lynn Dee Gardner Rohr, Cyndy McLane Street.
PATRICK DYNES FEATURED IN HEALTH MAGAZINE
Patrick Dynes is featured in an article in IN-Health Magazine, a publication of Inova Mount Vernon Hospital.
You can read the article to find out how doctors performed surgery to correct two disabling spinal conditions and restore Patrick to good health again. He now is pain-free and has resumed all his favorite physical activities, such a road-biking and working out at the gym.
MANY UA69ers AT STREET WEDDING
On August 24, 2013, Kiki Street, daughter of Scott Street and Cyndy McLane Street, married Greg Kullman at the Catawba Island Club at Port Clinton.
There were a lot of Class of 1969 friends there, and Jimj Long officiated at the ceremony!
Watch the video here:
STEVE MORLEY SINGS "SWEET CAROLINE"!
At the Kiki Street / Greg Kullman wedding, our own Steve Morley pur Neil Diamond to shame with his rendition of "Sweet Caroline! Watch the YouTube video below!
UAAA HAS FACEBOOK PAGE

We hope that ALL our alums will join us on the UAAA Facebook page. If you already have a Facebook account, please visit this page, like it, and recommend it to all your UA alumni friends! We hope to be able to use this Facebook tool as a way to send out periodic quickie messages about upcoming events or news. See our Facebook page here.
DOUG EZELL AND MIDLIFE CHRYSLERS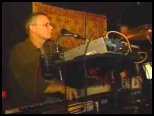 Doug Ezell contacted me to report that his band, The Midlife Chryslers (and you gotta love the name!) was the subject of a video interview on KTVQ-TV in Billings MT. The band, who has been at it for more than a decade, has several iteresting engagements coming up, including a Las Vegas convention during which they will entertain 20,000 audience members!

Watch the video interview featuring our own Doug Ezell

Visit MidlifeChryslers.com

Like the Midlife Chryslers on Facebook!
VIDEO ABOUT THE LONGTERM MEANING OF FOOTBALL IN A PLAYER'S LIFE
View this YouTube video of inspirational coaches and words of wisdom about the lifelong lessons that players learn through the game of football and being part of a team. The video features Kenny Chesney singing "The Boys of Fall."

See this video now.
BARRINGTON MEMORIES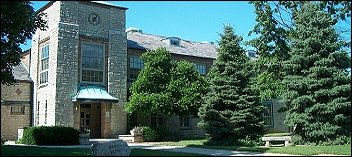 In response to my note asking for former Barrington students to share their memories of our days at the first elementary school in Upper Arlington, these classmates offered their thoughts, which will be shared in an interview to be videotaped and shown at a dedication ceremony for the new gymnasium and other improvements recently made to the Barrington building. Click each classmate's name to see these memories:
| | |
| --- | --- |
| | John Williams added a PS to his list of Barrington memories: the FLUTAPHONE! Do you still have yours? Remember how we all played the flutaphone in Mrs. Glass' music class? |
ALUMNI ASSOCIATION WEB SITE: BEARALUMS.COM
Please visit Bearalums.com, the official Web site of the Upper Arlington Alumni Association. Please make sure you're a member of UAAA, and also please check that your name and email address are listed there and are current and correct.
The Alumni Association keeps a database of thousands of graduates of our high school and helps reunion chairmen send mailings to their classmates. UAAA publishes a newsletter, Traditions, for all members, full of information and news about UAHS alumni.
Our class is amazing! Joanie Igel Dugger, Assistant Director of the UA Alumni Association, sent me this list of classmates from 1969 who have joined the Alumni Association at the two top levels: Life Member, and Golden Bear Member. Please show your support of this great school system by joining. You can do it by clicking right here. Thank you!
| | |
| --- | --- |
| | Life Members: William A. Clark, David R. Cooper, Bob Crunelle, Annette T. Daniel, Judy Winters Dennis (D), Walter E. Dennis, Jr., David A. Edwards, Jr., Anita K. Evans, Curtis Eyre, Thomas R. Grehl, Brian Hazelbaker, Lorna Lee Heydinger, Julie May Jones, Debbie Leggett Carnes, James M. Long, Elizabeth Postle Henry, Janet Richter Boyer, Donna Sell Kohlhepp, Lyn Skillman Mitchell, Christine Wheeler McKinney (D). |
| | Golden Bear Members: Craig W. Anderson, Jeff Browning, Beverly D'Angelo, Walt Dennis, Patti Elam, Frank A. Guglielmi, Ellen Isaly Clark, Cyndy McLane Street, Barbara Minton Miller-McGlinn, Jay Moffitt, Thomas F. O'Shaughnessy, Beth Postle Henry, Pam Shuey Snyder, Scott Street, and John Williams.. |

See the complete list of UA69 Golden Bear Members here.

See the complete list of UA69 Life Members here.

Please join UAAA here.
Every single membership is greatly appreciated! If you are not sure of your membership status, please email me and I will let you know! THANK YOU!
JOHN NEALE COMPLETES TRIATHLON

In his bio on the Classmates Then and Now page, John Neale talks about his interest in competing in triathlons. He wrote: " In my free time, I have become a runner (I did the Columbus Marathon in 1987), bicyclist, and triathlete. In 1998, I was the Rocky Mountain Regional Masters Champion at the Olympic distance triathlon for USA Triathlon, the national sanctioning body. Last year (2008), I succeeded in crossing the #1 item off my bucket list by competing in and finishing an Ironman triathlon in Tempe, Arizona (2.4 mile swim, 112 mile bike, and 26.2 mile run)."

See the video of the Ironman Triathlon here.


Read John's bio and other classmates' bios here.
STEVE HOLLOWAY PUBLISHES HIS SECOND BOOK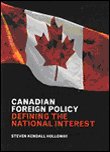 Steve Holloway has published his second book, Canadian Foreign Policy: Defining the National Interest. Though designed for college courses on foreign policy, the book serves as a good general introduction to Canada, its role in the world and its relations with the US.
Steve is currently chair of the Political Science Department at St. Francis Xavier University, in beautiful Nova Scotia. StFXU is a small liberal arts college (about 4000 students) which has frequently been ranked as the best small university in Canada. More information about the book and ordering can be found on Amazon.com or on this link.
See Steve Holloway's amazing (and huge!) collection of photos and scans of school programs from Hastings and UAHS.
PLEASE UPDATE YOUR INFORMATION!

Please check your name, address and telephone number on the Directory pages and let me know if any of your information has changed. If you spot goofs in other people's addresses or phone number, will you please tell me? I'd like this list to be complete. Thanks!